CEREC® Same-Day Dental Restorations
What Is CEREC®?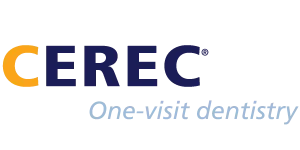 CEREC® (Chairside Economical Restoration of Esthetic Ceramics) technology allows our cosmetic dentists to take a digital impression of your teeth, create custom dental crowns, and bond these restorations into place all in a single day. If you have fractured, chipped, decayed, or damaged teeth, our porcelain crowns can strengthen the structure of your natural tooth while also improving the appearance of your smile. With CEREC® technology, many patients can take advantage of a process that is now faster than ever before.
What Are the Pros and Cons of CEREC® Crowns?
Same-day CEREC® restorations are a state-of-the-art solution for damaged teeth that can offer many benefits, including:
Strengthening weak teeth
Repairing chips, cracks, and tooth decay
Digital impressions that eliminate the need for messy, uncomfortable molds
Color-matching for a seamless blend with surrounding teeth
A precise fit with results that can both look and feel natural
Fewer visits to the dentist
With all of the "pros" associated with CEREC® restorations, you may be wondering about the "cons." The good news is, there are virtually no disadvantages with this treatment as long as it is performed by a skilled dentist who has experience with the technology. Fortunately, our dental team has the necessary experience and attention to detail to create natural-looking CEREC® restorations that can yield beautiful results.
What Does the CEREC® Dental Crown Procedure Involve?
The first step to creating your custom porcelain crown is to prepare the affected tooth. Once this preparation is complete, your dentist will capture a digital impression of the tooth that will be used to mold your crown with a 3D printer. Using CEREC®'s digital scanning technology, our dentists can create crowns that fit your natural tooth more accurately compared to traditional methods. After your crown is complete, the restoration is then bonded into place and given a final polish.
Our advanced porcelain crown technology combined with the experience of our skilled dentists can ultimately make your treatment both successful and convenient!
How Long Do CEREC® Crowns Last?
Just like standard dental crowns, CEREC® crowns can last for many years—even decades—as long as you take good care of them. Most CEREC® crowns at our practice are crafted with strong porcelain materials, then secured to the teeth with a durable dental cement. These aspects of CEREC® crowns go a long way toward ensuring their longevity; however, they are not completely impervious to harm, and will require just a few extra precautions to help them last. Good at-home oral hygiene regimens plus regular dental visits for exams and cleanings will be necessary. Also, please try to refrain from opening bottles or packages with your teeth, or using the dental crown to chew hard foods. If you have a condition called bruxism (which is the grinding or clenching of the teeth while sleeping), a nightguard may be recommended. These customized oral appliances add a protective barrier between the top and bottom rows of teeth, which can prevent the crown from being damaged during sleep.
How Much Do CEREC® Crowns Cost?
Since CEREC® procedures are customized for each patient based on factors such as the number of restorations that are necessary, the complexity of the dental concerns being addressed, and other associated costs, the final price of CEREC® crown procedures is not the same for each patient. With that in mind, CEREC® crowns do make it possible for some costs—such as fees for an outside laboratory, temporary restorations, and separate office appointments—to be avoided in many cases. Plus, CEREC® crowns are often covered (at least partially) by many dental insurance plans. When your customized treatment plan is created, a member of our team will produce a cost estimate of your procedure that includes all associated fees. We will be happy to help you determine whether your insurance policy offers coverage for CEREC® crown procedures, or answer any questions you may have about the many payment methods we accept at our practice. If you are interested in paying for your treatment in installments, our office works with a reputable agency called CareCredit®, which offers convenient monthly dental financing plans for patients who qualify.
How Do I Choose the Right CEREC® Doctor?
To find the right CEREC® dentist for your needs, it's best to remember that the ability to achieve excellent results from the procedure is dependent on two basic factors: the technology itself and the experience and skill level of the doctor who is performing the treatment. A search through the practice's website can often give you information on the dentist's background and experience, but it's also helpful to contact the practice and ask them directly. Are the dentists properly trained on how to effectively utilize CEREC®? How long has the dentist been using the CEREC® milling system for restorations? By making some quick inquiries and getting some information on your prospective dentist's aptitude with CEREC® technology, you can often gain a much clearer idea as to whether they are a qualified CEREC® doctor, which can ultimately increase the likelihood of obtaining the best possible results.
Our top dentists in Poway are extensively trained and experienced with CEREC® procedures and have successfully performed these procedures numerous times. They look forward to answering any questions you may have about CEREC® restorations and talking to you about how these treatments can conveniently and effectively meet your needs and goals.
For more information about CEREC® same-day dental restorations, or to schedule an appointment, please contact our office today.