Dental Implant Restorations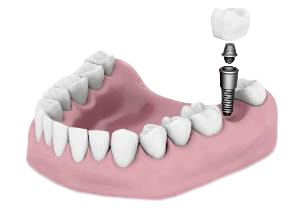 With dental implant restorations from Pomerado Cosmetic Dentistry, you can replace missing teeth with permanent results. Unlike dentures, dental implants are designed to become a part of your mouth and mimic your natural teeth. They do not move or slip along the gums, and they are custom-designed for the most precise fit. Implants do not have to attach to the other teeth like permanent bridges. Dental implants can not only improve chewing and speaking, they also look and feel so much like natural teeth you may not be able to tell the difference.
Benefits of Dental Implants
Dental implants have revolutionized the restorative dentistry field, allowing patients to achieve results that benefit them in a number of ways. Advantages of dental implants include:
Permanent replacement for missing teeth
Improvement in biting, chewing, and speaking
Improvement in the appearance of the teeth
No movement or slippage along the gums
Natural look and feel
No daily maintenance other than daily brushing and flossing routines
Will NOT decay like natural teeth
The Dental Implants Procedure
Step 1
The first part of the dental implant procedure involves a thorough oral evaluation from one of our experienced dentists in Poway. For dental implants, patients must have adequate jawbone density in order to qualify for the procedure, as the implant must be anchored to a strong support structure. For patients who may not qualify for dental implants, there are a variety of effective alternatives that our dentist can recommend.
Once it is determined that you are a candidate for dental implants, you will then be referred to an oral surgeon or a periodontist for placement of the dental implant. They will use advanced CAT-scan technology to create a detailed view of the anatomy of your mouth and the position of your teeth. This technology makes it possible for the implant to be very precisely guided into place for the most comfortable and accurate results.
Step 2
Dental implants are strong titanium posts placed under the gum and anchored to the jawbone in the area of the missing tooth. Over a period of a few months after the implant has been placed, the post will fuse to the bone, mimicking a natural tooth root. Once the post has adequately fused to the bone, the implant has now become a permanent part of your mouth, and it is ready for a permanent dental crown.
Step 3
Our dentist will create a customized porcelain dental crown for you with the innovative CEREC® ceramic restoration technology, which can create your porcelain crown right here at our office. This crown is meticulously designed for the most accurate and natural-looking fit and appearance, and it is color-tinted to blend well with surrounding teeth. The crown provides you with the finishing touch to your dental implant.
Dental implants are typically the best options available to replace missing teeth, and can provide numerous benefits for patients who are looking for alternatives to dentures. At Pomerado Cosmetic Dentistry, we can give you effective dental implant restorations that can significantly improve the appearance of your smile and the function of your teeth.
Dental Implant Frequently Asked Questions (FAQs)
Am I a candidate for dental implants?
Good candidates for dental implants are typically  those who:
Have a single missing tooth or multiple missing teeth
Have adequate jawbone density in the area of the missing tooth to accommodate the dental implant
Are not suffering from gum disease (note: if you do currently have gum disease, treatment will need to be performed prior to the dental implant procedure)
Do not have certain medical conditions that may inhibit optimal healing after the implant has been placed
Are not currently undergoing radiation or chemotherapy treatment
The best way to determine whether you are an ideal candidate for dental implants is to schedule a consultation. Our dentist will conduct a thorough oral examination of your teeth, gums, and jaw, and talk with you about the best options for your needs. If you are not a candidate for dental implants, we can recommend advanced alternatives that can address your concerns.
What if I don't have adequate jawbone density to support the implant?
An adequate amount of healthy bone in the jaw where the dental implant is to be placed is necessary to keep the implant secure. If you do not have adequate jawbone density, that does not necessarily mean you can never get a dental implant. Procedures such as bone grafting, which places donor bone material in the jaw in order to provide the implant with a more durable support structure, can often be performed to address this issue. Our dentist will talk more with you about the available options.
Do dental implants hurt?
A local anesthetic is often all that is necessary to minimize pain and discomfort during the dental implant procedure.
Will dental implants look natural?
One of the many benefits associated with dental implants is their ability to provide results that look, feel, and function like natural teeth. Our goal is to provide results that look so natural you may have trouble distinguishing the artificial tooth from your original teeth!
How long is the process?
The total length of the dental implant treatment process varies from patient to patient. Once the implant or implants have been placed, the titanium posts will need time to fuse to the jawbone. For many patients, this takes approximately 1-3 months, and possibly longer for some individuals. While the post is healing you will have a temporary replacement. It's important to remember that the goal of a dental implant is to precisely mimic an actual tooth right down to the root, ultimately becoming a part of your mouth. While the overall treatment process takes time, for many patients it is worth the wait because the results are so extraordinary.
How long will the implants last?
Dental implants are designed to be permanent teeth replacement solutions.
What are implant-supported dentures?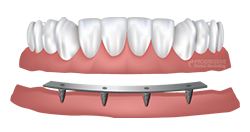 Implant-supported dentures can sometimes be a viable alternative for patients who need to replace multiple missing teeth. The procedure utilizes an implant or implants to provide a more stable foundation for a set of dentures or a fixed bridge. An implant-supported denture significantly reduces the potential that the denture will move or slip along the gums. It also eliminates the need for messy pastes and adhesives.
For more information on dental implant restorations, or if you would like to schedule a consultation for these advanced missing teeth replacement options, please contact Pomerado Cosmetic Dentistry.