Dr. Robbi Wilson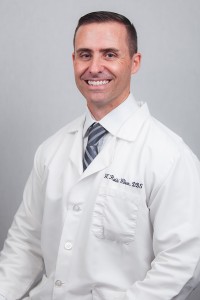 Dr. Robbi Wilson is a native of San Diego. After graduating from Mira Mesa High School, he continued onto the University of California San Diego, where in 1997 he received his Bachelors of Science degree in Biology. In 2002, he completed his Doctorate of Dental Surgery at University of California Los Angeles in the top 10% of his class. After graduating from dental school, Dr. Wilson elected to continue his education by completing a 1 year general practice residency at a veteran's hospital in Los Angeles.
Dr. Robbi Wilson is consistently improving his skill set and knowledge of dentistry by attending continuing education classes and seminars across the country. Dr. Wilson is a member of the American Dental Association, the California State Dental Association, and the San Diego County Dental Society.
Dr. Wilson and his wife, Michelle, have been married since 2004 and have a daughter named Malia and a son named Jackson. Outside of dentistry, Dr. Wilson enjoys spending time with his family and friends, snowboarding, surfing, and playing drums.
Dr. Wilson has been acknowledged by his professional colleagues in San Diego Magazines' "Top Dentist" and received the award in 2008, 2009, 2010, 2011 and 2013.