Removable Orthodontic Retainers
Removable orthodontic retainers can give patients with mild to moderate teeth misalignment a way to straighten their teeth in a more comfortable way. These treatments can often be used in both adults and children, and offer a way to improve the positioning of your teeth without the discomfort and maintenance that typically accompany traditional braces or headgear.
Benefits of Removable Orthodontic Retainers
Retainers offer a number of benefits for patients, including: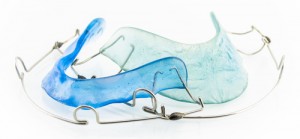 Reduction in teeth crowding or spacing
A straighter appearance to the teeth
Virtually painless treatment
More discreet than traditional orthodontic techniques
No uncomfortable braces
Able to remove when eating, drinking, brushing, and flossing
Removable orthodontic retainers can help you achieve your goals with beautiful results. The experienced cosmetic dentists at Pomerado Cosmetic Dentistry offer state-of-the-art, custom-designed retainers for the most comfortable fit possible. With these innovative treatment options, you can feel great about the look of your teeth.
For more information on removable orthodontic retainers, or if you would like to schedule an appointment and oral evaluation here at our practice, please contact Pomerado Cosmetic Dentistry today.