Dr. Valeri Sacknoff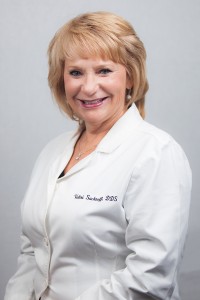 Dr. Valeri Sacknoff grew up in Chicago where she received her Bachelor of Science in Public Health and Dental Hygiene in 1975 from Loyola University. After practicing as a dental hygienist for 5 years, she continued her dental education and received her Doctorate of Dental Surgery from New York University in 1981. In 1983 she moved to San Diego where she raised her 3 daughters in Rancho Penasquitos and has been in private practice ever since.
Dr. Sacknoff continues to improve her knowledge of dentistry by attending continuing education classes and seminars across the country. She is a member of the American Academy of Cosmetic Dentistry, California State Dental Association, the Academy of General Dentistry and the American Dental Association.
Outside of dentistry, Dr. Sacknoff enjoys traveling, dancing, and organizing family and friend celebrations. She is also committed to volunteering at the Poway health fair and various community outreach programs.
Dr. Sacknoff has been acknowledged by her professional colleagues in San Diego Magazines "Top Dentist" and received the award in 2007, 2008, 2009, 2010, 2011 and 2013.