Family Dentistry in Poway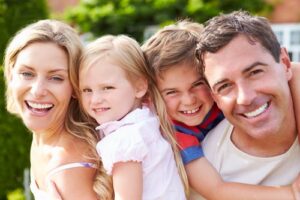 At Pomerado Cosmetic Dentistry, we dedicate our careers to providing personalized care to every individual we treat. Not only do we welcome patients of all ages, but we delight in providing exceptional treatment and a pleasant experience for our younger patients. Our dental professionals are well-versed in pediatric dentistry, and we consider it a privilege to improve the oral health of children and families.
In our kid-friendly office, we offer a wide range of treatments for both adults and children, from routine and preventive dental care to restorative and cosmetic dentistry options. We know the values that any quality family dentist must possess, and our entire team works diligently to provide the absolute best care possible. 
What Is Family Dentistry? 
"Family dentist" is often utilized as an umbrella term to describe someone who offers a comprehensive array of treatment options to patients of all ages. This typically includes general/preventive dental care, restorative care, periodontal care, and cosmetic dental care, as well. A family dentist should be able to simultaneously treat common dental concerns and educate patients on how to properly maintain good oral health. Good family dentists are typically trained and/or experienced in pediatric dentistry in addition to general dentistry and are able to communicate with children as well as they are able to communicate with adults. 
Why Choose a Family Dentist? 
While the benefits of choosing a family dentist are virtually limitless, here are a few that we believe are some of the most important:
Variety of treatment. A family dentist is usually capable of performing many different types of procedures. Parents find it convenient to be able to bring their child to a dentist who can handle the majority of oral issues that may arise.
Accessibility. Families tend to find a major perk in having access to so many treatments under one roof. Especially if you have multiple children, it's very convenient to have one go-to dental office.
Early introduction to the dentist. One of the biggest joys a pediatric dentist can experience is watching a young patient grow. When a child starts coming to the dentist at an early age, a dentist is able to get to know them. In turn, the dentist can better personalize their care plan.
Collaboration. We believe the ability to effectively communicate with both parents and children is one of the things that makes a great family dentist. Your dentist should be able to convey information so that both kids and adults understand. Children should be able to trust their dentist with any questions or concerns, and they should be able to sense that their dentist is there to make them feel better. 
Education. Going along with their communication skills, a family dentist should thoroughly explain each course of action so that the patient knows exactly what is in store. A strong family dentist explains each procedure so their patient retains the information, and places an emphasis on patient education so individuals can develop good at-home oral health care habits and sustain them for many years to come. 
What Family Dental Care Treatments Does Pomerado Cosmetic Dentistry Provide? 
Our team takes great care in creating a customized plan according to each family member's unique needs. We take each patient's age into account to ensure they feel as comfortable as possible throughout each procedure. 
Exams, Cleanings, and General Dental Care 
We recommend starting routine exams as early as possible, typically around three years-old. This way, we can monitor the growth of teeth and gums and catch any issues that may arise along the way. In addition, we begin a regular cleaning schedule with every new patient. We recommend patients come in for exams and cleanings, which are typically done in one appointment, at least twice a year. These treatments are part of a comprehensive selection of general dentistry options available here at our practice, which also includes tooth-colored fillings, periodontal care, dental sealants, and more. 
Restorative Care
Restorative dentistry procedures are designed to improve the health, functionality, and aesthetic quality of the teeth. Examples of restorative procedures include dental crowns, inlays and onlays, dental implants, and many others.  
Cosmetic Care 
Cosmetic dental treatment may be recommended for patients who would like to enhance smile aesthetics. Cosmetic procedures available to both adults and many adolescent patients include porcelain veneers, gum recontouring, teeth whitening, Invisalign®, and others. 
Instructions for At-Home Oral Care
We make it a priority to instruct our younger patients, as well as their parents, on how to maintain good oral health at home. We can help you teach your children how to develop excellent brushing and flossing habits, and provide you with tips on how to enhance your own at-home oral hygiene routines.
How to Select the Best Family Dentist  
As we mentioned earlier, one of the most important characteristics of any family dentist is their ability to communicate with patients of all ages. Without effective communication and a comforting, compassionate approach to care, younger patients in particular may not be able to realize the importance of dental health. 
It's also essential that the dentist you choose has the proper skills, qualifications, and experience. Look through your prospective dentist's website biography to evaluate their professional background, credentials, and affiliations with major dental organizations. Also take a look at patient testimonials, reviews of the dentist, and before-and-after photos to learn about the experiences of other patients. Finally, meet with the prospective dentist to evaluate your rapport and determine if they are the right choice for you and your family. This in-person consultation is often the best way to find the ideal dentist, and a great opportunity for you to address any questions you may have before making your decision. 
If you have additional questions about our dentists and the treatments available at Pomerado Cosmetic Dentistry, or if you are ready to schedule a consultation, please contact us today!