Smile Design and Makeover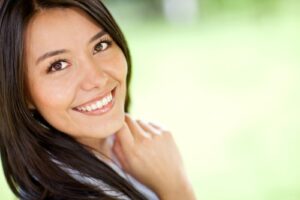 A smile design and makeover is the combination of multiple cosmetic treatments with one goal: reinvigorating your smile. At Pomerado Cosmetic Dentistry, we utilize smile design technology that emphasizes the revitalization of your teeth through various aesthetic and cosmetic dentistry techniques. The combination of numerous procedures tailored to your needs allows our team to provide exceptional smile renewal and comprehensive aesthetic restoration.  
What is a Smile Design and Makeover?
Smile design, often simply referred to as a "smile makeover," typically involves the combination of more than one cosmetic dental procedure in a singular comprehensive plan. This plan is customized to your specific and unique needs. With our innovative imaging systems and Smile Vision technology, we are able to provide an intricate overview of your concerns and give you a preview of what the final results of treatment may look like, allowing you to essentially "try on" your new smile before any actual procedures have begun. This enables us to make any necessary adjustments based on your pre-treatment feedback. 
What Concerns Can a Smile Makeover Address?
A smile makeover is often ideal for individuals who want to address more than one concern with the appearance of their smile. The list of treatable concerns can include discolored or stained teeth, misaligned teeth, missing teeth, chipped or cracked teeth, periodontal conditions, and more. During your consultation, our team will discuss your primary needs with you and make a plan accordingly.
What Are My Smile Makeover Options?
A smile makeover isn't limited to just one procedure, so you will have access to a wide range of potential options. Typically composed of more than one cosmetic dental treatment, a smile makeover can include: 
Porcelain Dental Veneers
Tooth-Colored Fillings
Cosmetic Gum Recontouring
Removable Orthodontic Retainers
Dental Bridges
Inlays and Onlays
You will be provided with all these options at your consultation. At that time, our team will develop a comprehensive plan tailored to your goals and expectations.
What is the Smile Design and Makeover Process Like?
Because of the mix-and-match method of a smile makeover, the process will likely be much different for each person. You must also consider the scheduling of your treatments and the nature of your smile makeover timeline. Our practice utilizes smile imaging through Smile Vision, which allows us to take digital images of your teeth and create a pre-treatment model that can be adjusted. This technology gives you a chance to see what your teeth can look like before any work has been done.
Additionally, with CEREC® Ceramic Milling Technology, we are able to create natural-looking restorations for many patients, like dental crowns and porcelain veneers, right in our office without having to rely on a third-party lab. CEREC® uses innovative and modern technology to create a digital impression of your teeth, allowing for a more accurate method to address your needs. The milling system can create certain restorations during a single visit, which gets you back to your normal routine quicker.
At your consultation, our team will go into greater detail about each procedure and what your process will look like based on your comprehensive smile makeover treatment plan. 
How Much Does a Smile Design and Makeover Cost?
Due to the unique nature of a smile makeover, the cost will vary according to each personalized treatment plan. Every patient's needs will be different, so the costs incurred fluctuate based on individual goals. Your cost range and payment options can be discussed during your initial consultation so you have an idea of what to expect before treatment begins. Qualified applicants can also take advantage of CareCredit®, which offers a number of options that allow patients to finance the total price of the treatment.
If you would like to find out more about our smile design and smile makeover services, contact our practice today!