SureSmile® Clear Orthodontic Aligners

SureSmile® is another leap forward in orthodontic treatment for individuals across the age spectrum who are looking for a more discreet alternative to braces. With custom sets of clear, removable aligners, SureSmile® is capable of correcting teeth misalignment and bite issues in less time and with virtually undetectable oral appliances.
What Are the Benefits of SureSmile® Clear Aligners?
SureSmile® clear aligners are designed to treat a full range of common orthodontic conditions, including mild to moderate signs of gaps, spaces, crowding, "crookedness," and general misalignment issues. This treatment can also be utilized for bite irregularities such as overbite, underbite, open bite, and crossbite. Additional benefits of SureSmile® include:
Orthodontic correction without the need for wires and brackets
Clear aligners that can be removed for eating, drinking, and oral hygiene routines
Potentially faster treatment and fewer return office visits for maintenance when compared to braces
Virtually no dietary restrictions
The best way to determine whether you are an ideal candidate for SureSmile® is to have an oral evaluation by one of our experienced dentists. We can examine your teeth, talk with you about your concerns, and explain all of your options. If SureSmile® is right for your needs, our dentist can develop a customized treatment plan designed to provide you with straighter teeth and a beautiful new smile!
What Does the SureSmile® Treatment Process Involve?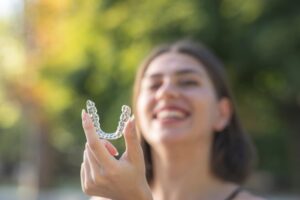 To start the SureSmile® treatment process, a digital impression of your teeth will be taken. This state-of-the-art scan will serve as the foundation to craft the SureSmile® clear aligners. The digital impression will be sent to a dental laboratory to create a series of custom-made aligners. You'll wear each set for a certain amount of time, and then discard it to make way for the next in the series. Each SureSmile® aligner is slightly different from the one that came before it, which allows for a gradual progression of tooth movement into a more desirable position. The aligners should be worn for a minimum of 22 hours each day to maximize the potential for successful treatment without having to go too far over the projected treatment schedule. Our team will schedule occasional follow-up appointments with you to monitor your progress over the course of your treatment.
How Long Does SureSmile® Take?
One of the major benefits of SureSmile® is that it often takes much less time to achieve the best results when compared to traditional braces. For many patients, ideal outcomes can be achieved between 6 and 18 months; however, this will depend on each individual's unique needs and ultimate treatment goals. In order to increase the chances of successful treatment that does not extend past the projected length of time necessary to produce excellent results, patients should follow all treatment protocols to the letter and wear their aligners as often as directed throughout the day and night.
How Much Does SureSmile® Cost?
The cost of SureSmile® typically starts at approximately $2,500 at our practice; however, it is very important to note that SureSmile® is customized based on the conditions it is being used to address, the severity of those conditions, the number of aligners necessary for optimal results, and other factors. With that in mind, the total price of SureSmile® is often quite different from one patient to another. Once your treatment plan has been developed, a member of our team here at Pomerado Cosmetic Dentistry can calculate a more precise estimate of the cost and go over our variety of payment options, which include financing plans available for qualified applicants through CareCredit®. Additionally, many dental insurance policies offer a certain amount of coverage for orthodontic procedures, and we can assist you in determining whether SureSmile® is covered under PPO dental plans.
Learn More about Dental Insurance, Payment, and Financing Options.
If you would like more information about SureSmile®, or if you are ready to schedule a consultation, please contact us today.