Dental Care for Seniors and Mature Adults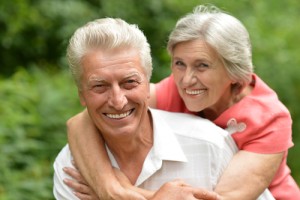 The experienced dentists here at Pomerado Cosmetic Dentistry are proud to offer advanced dental services to patients of all ages. As one gets older, the natural aging process and simple wear and tear begin to take a toll on oral health. It becomes more common for decay to set in; the teeth are more susceptible to being ground down or weakened; gum disease may have progressed to a more serious stage; some teeth may be lost or heavily damaged; and years of eating certain foods, drinking certain beverages, or using tobacco products may have resulted in stains, discolorations, and a yellowed appearance.
Individuals in their 60s, 70s, 80s, and beyond can maintain their oral health in addition to a beautiful smile with the many options available at our practice. Our general and restorative dentistry treatments can keep the function and health of your teeth and gums in the best possible shape, while cosmetic dentistry procedures can renew their appearance with beautiful results. 
Treatment Options
In later years, it's more important than ever to take good care of your teeth since oral health problems can be linked to a number of severe – even life-threatening – overall health conditions. In addition to good at-home oral hygiene, it's important that you have routine dental check-ups to keep your teeth and gums healthy and quickly address any problems. Our skilled dentists are committed to providing you with the most effective and comfortable dental treatment possible. Options include:
In addition, our practice offers treatment for common conditions such as TMJ Disorder and sleep apnea.
A number of our dental procedures not only work to improve the function of the teeth, but also to reduce signs of aging and beautifully restore their appearance. Serious dental problems and tooth loss do not have to "come with the territory" of getting older. In fact, many common aesthetic and functional dental issues can be avoided with proper care. The dentists at Pomerado Cosmetic Dentistry can help you meet your needs with a comprehensive range of treatment options delivered by a skilled dental team you can trust! 
For more information on our senior dental care services, or to schedule an appointment, please contact us today.