Implant Dentures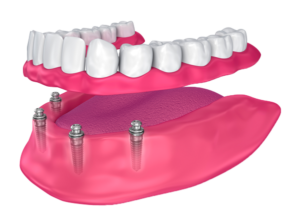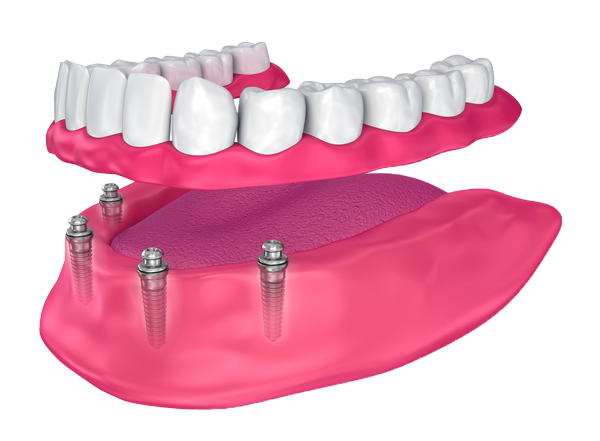 Implant dentures offer a unique and effective solution for patients who are missing several teeth or all of their teeth. These restorative treatments are basically hybrid versions of dental implants and custom dentures, utilizing the advantages of both techniques to provide secure replacements for missing teeth that look, feel, and function more like natural teeth. Our dentists in Poway can help you completely restore your teeth with advanced implant dentures designed to improve both your smile and your livelihood.
What Are Implant Dentures?
Implant dentures are customized dentures secured to the jawbone with a select number of dental implants. Also referred to as "implant-anchored dentures" or "implant-supported dentures," these treatments are designed to make dentures better-fitting and more stable on the gums, ultimately reducing the likelihood that the denture will slip or move while it is in use. By securing a denture with dental implants—which essentially serve as artificial tooth roots—patients can replace missing teeth with results that can significantly improve chewing and speaking while fully restoring smile aesthetics.
What Are the Pros of Implant Dentures?
The potential benefits of implant dentures are numerous, especially for individuals who have several missing teeth or no teeth at all on the upper or lower dental arch. Implant dentures can help you:
Replace full rows of missing teeth with results that appear and function more like original teeth
Obtain dentures that are more secure and stable, without the need for messy dental adhesives and pastes to reduce movement along the gums
Improve your ability to properly speak and chew
Reduce the possibility of bone loss that can occur in areas of missing teeth
Eat more of the foods you enjoy without many of the restrictions required by traditional dentures
In addition, implant dentures may be an effective alternative for individuals who have been previously told that they do not qualify as candidates for full sets of dental implants. During your initial consultation here at Pomerado Cosmetic Dentistry, our dentist will talk with you about your concerns and help you determine whether implant dentures offer the best way to restore your teeth and meet your needs.
What Are the Different Types of Implant Dentures?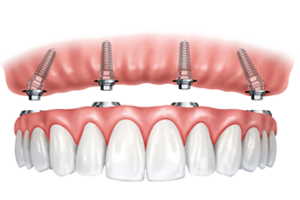 There are a variety of options when it comes to implant dentures and what they can do for your smile, including partial implant dentures or implant bridges for patients who need to replace missing teeth only in specific sections of the mouth, as well as full implant dentures for individuals who need complete teeth replacement. Some of the advanced options at our practice include:
All-on-4®
All-On-4® is a special implant denture technique that can be ideal for full teeth replacement. This treatment uses four dental implants on the upper or lower jaw to provide strong support for a custom denture. All-On-4® offers patients an innovative alternative to replacing each and every missing tooth with a dental implant. The four implants necessary for adequate denture stabilization will be precisely and strategically placed in areas that have the strongest jawbone density in order to secure the denture with the most durable foundation possible.
All-on-6
Some patients may require more than four implants to give the denture a secure basis of support. In these cases, All-On-6 implant dentures may be recommended. This technique utilizes the same approach as All-On-4®; however, there will be two additional implants placed in each dental arch to securely anchor the custom denture.
Full Mouth Restoration
Implant dentures can often provide patients with what's called a full mouth restoration (or full mouth reconstruction). These procedures can benefit individuals who need comprehensive replacement of all teeth on the upper and lower dental arches, as well as those who may need only partial teeth replacement in combination with additional restorative dentistry treatments that can help them address other functional dental concerns.
How Is the Implant Dentures Procedure Performed?
Once you are determined to be a good candidate for implant dentures, our dentist will begin developing your customized treatment plan based on the type of implant denture that is best for your needs. We will then refer you to an experienced oral surgeon or a periodontist who will utilize state-of-the-art technology to identify the precise locations of your mouth that can allow the dental implants to provide the strongest support foundation for the denture. Once the implants are anchored to the jawbone, the "osseointegration" process will begin. This is the period for which the implants should fuse to the bone and become a part of your mouth, much like natural tooth roots. While it often takes several months for the osseointegration process to complete, a temporary denture appliance can typically be placed over the implant posts during this time so that you can more easily speak and chew. After the dental implants have achieved the proper level of fusion with the jawbone, our dentist can fasten the permanent custom denture to the implant posts, which serves as the final step of the procedure.
How Much Do Implant Dentures Cost?
The cost of implant dentures is often not the same for each patient since this procedure is customized based on individual needs and goals. The total number of dental implants that will be placed, the complexity of the treatment, the price of the denture appliance, laboratory and materials fees, whether any preliminary procedures—such as gum disease treatment or tooth extractions—will be required, and other factors are taken into account for the final cost. Rest assured that our dental team will provide you with an overall cost estimate before the treatment begins so that you will know what to expect. We will be happy to answer your questions about the variety of convenient payment methods we accept here at Pomerado Cosmetic Dentistry, and we can also talk with you about dental financing options. Our practice accepts payment arrangements through CareCredit®, an agency that offers qualified applicants a comprehensive selection of affordable payment plans that can help patients bring the cost of implant dentures into their budget.
Implant dentures can dramatically improve dental function and completely renew your smile! If you would like more information, or if you are ready to schedule a consultation with one of our dentists, please don't hesitate to contact us today.