All-On-4®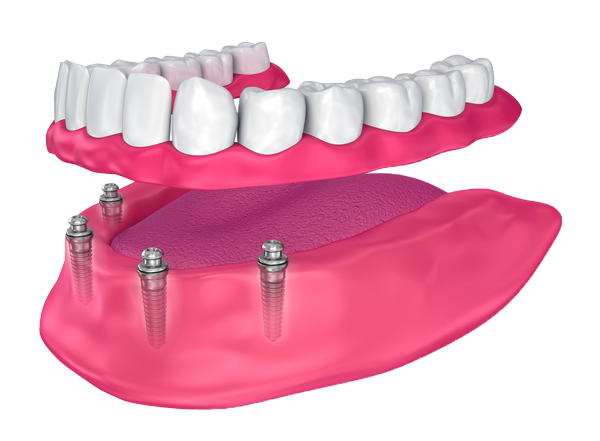 All-On-4® implant dentures offer a unique and innovative way for patients to replace multiple missing teeth. This "hybrid" version of dental implants and a custom denture can resolve many of the problems associated with missing teeth and help individuals improve both oral health and smile aesthetics. Pomerado Cosmetic Dentistry is committed to providing a comprehensive array of restorative options for missing teeth, and All-On-4® is one of the most advanced methods of replacing teeth with greater security and stability when compared with conventional dentures.
What Is All-On-4®?
All-On-4® is a type of implant-supported denture. This treatment can be very beneficial for patients who are missing all teeth in the upper and/or lower areas of the mouth. Using a combination of four dental implants per dental arch and a custom denture appliance, All-On-4® implant dentures are able to replace missing teeth with a more secure foundation, ultimately providing results that look and feel more natural and comfortable.
What Are the Benefits of All-On-4® Dental Implants?
Since All-On-4® requires only four dental implants, placed in specific areas of the dental arch that have sufficient jawbone density, this treatment may be an effective alternative for some individuals who may not have previously qualified for dental implant procedures. Other advantages offered by All-On-4® implant dentures include:
Full teeth replacement for missing teeth on the upper and/or lower dental arches
No dental adhesives or pastes are typically necessary to prevent slippage of the denture along the gums
An improved ability to chew and speak
Dramatic improvement in smile appearance
Prevention of further bone deterioration in the areas of missing teeth
Results that feel and function more like natural teeth
Plus, compared to traditional dentures, most patients do not have as many food restrictions with All-On-4®, allowing them to once again enjoy more of the foods they like.
The All-On-4® implant denture option is designed for patients who are missing entire rows of teeth. For patients who are missing several, but not all, teeth in certain areas of the mouth, dental implants or traditional implant dentures may be a more suitable treatment option. One of our experienced dentists here at Pomerado Cosmetic Dentistry will be happy to meet with you for an initial consultation and oral evaluation to determine whether All-On-4® is an ideal treatment option for your needs and goals.
What Does the All-On-4® Procedure Involve?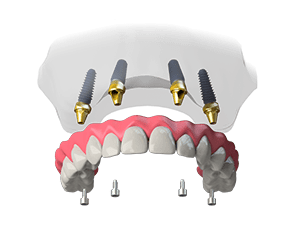 The initial stage of the All-On-4® procedure involves the use of high-definition imaging technology to determine the ideal placement for the dental implants. An oral surgeon or an experienced periodontist will use this information to create a precise map of your oral structures, allowing for placement of the implants in areas with the strongest bone density and best support foundation for the custom denture. The implants will be inserted through the gum tissue and anchored to the jawbone, where they should fuse to the bone over the following months. While this process continues, a temporary denture can be affixed to the implants; after proper fusion has occurred, the permanent denture appliance can then be placed.
Upper Arch or Lower Arch Replacement
Each dental arch will need a minimum of four dental implants to adequately support the custom denture. For upper arch replacement (the top row of teeth), four dental implants will be secured to the jawbone to provide full replacement of all teeth in this area. The same method applies for lower arch replacement (the bottom row of teeth).
Full Mouth Rehabilitation 
A full mouth rehabilitation (also known as a full mouth restoration) may be recommended for patients who are missing all teeth on both dental arches. In these cases, All-On-4® can be utilized to completely replace the teeth and fully restore dental function and appearance.
It is important to note that some patients may require additional dental implants to achieve the best possible stability for the custom denture. With this in mind, our dentist may recommend the All-On-6 option. Instead of placing four implants per dental arch, this treatment utilizes six implants. The additional two implants for each dental arch can provide an extra layer of strength to ensure a comfortable and secure fit for the custom denture.
How Much Does All-On-4® Cost?
General estimates and national averages of the total cost of All-On-4® often range between $15,000 and $24,000 per arch; however, the price is heavily dependent on each patient's unique treatment plan. Factors such as whether one or both dental arches are being treated with All-On-4®, as well as the number of dental implants that will be necessary and the general complexity of the treatment are taken into account. Other costs associated with this procedure that will be part of the final price include fees for the custom denture and other materials, any additional treatments (such as tooth extractions) that may be necessary, and whether sedation dentistry techniques are requested. Once our dentist has designed your customized treatment plan, a member of our dental team will calculate the projected cost of your All-On-4® procedure—including all expenses associated with your treatment—and answer your questions. In addition to the many convenient payment methods we accept here at Pomerado Cosmetic Dentistry, our practice works with CareCredit®, a well-known dental financing company that offers a full selection of affordable payment plans for qualified applicants who would like to pay for the treatment in monthly installments. We can talk more with you about your options and help you determine the most budget-friendly way to obtain the treatment you need.
Would you like to learn more about All-On-4®? Please contact our practice today with any questions you may have, or to schedule a consultation.