Do You Snore?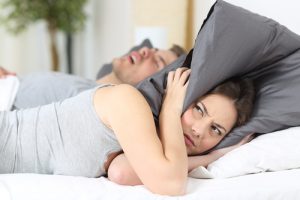 Having an Obstructed Sleep Airway (OSA) is a condition which is characterized by pauses in breathing during sleep. Though one of the most prominent symptoms is loud snoring, sleeping disorders can cause a person to wake in the middle of the night gasping for air, and they can lead to serious health risks when left untreated. In addition, many men and women do not realize they have a problem because they are sleeping. Oftentimes, a partner or family member first notices the symptoms of snoring and gasping and urges the person with the condition to seek treatment.
The first signs of OSA can include severe snoring, pauses in breathing for several seconds, feeling sleepy during the day, gasping for air, and teeth grinding. When left untreated for a prolonged period of time, lack of proper sleep can cause a person to experience symptoms like:
Frequent Headaches
Daytime Fatigue When Driving or Working
Memory Loss
Acid Reflux
Insomnia
Depression
Serious health conditions can result, including:
Weight Gain
Diabetes
High Blood Pressure
Heart Disease
Stroke
Cancer
Sudden Cardiac Death
Fortunately, there are a number of treatment options – including customized oral nightguards – that can eliminate snoring and help you achieve healthy sleep.
Sleep Apnea Evaluation
Dr. Sacknoff and Dr. Wilson at Pomerado Cosmetic Dentistry are committed to offering patients the best possible care related to your overall health. Recently, all members of our team received advanced training in the field of Sleep Medicine from the OSA University, which offers dental education courses on screening and treatment for sleeping disorders. Once you have been screened by completing a questionnaire and having a visual exam of your mouth,  it will be determined if there may be cause for concern. A simple at-home sleep test worn in the comfort of your own bed will be sent to you and then evaluated by a board-certified sleep physician who will provide your results as Normal, Slight, Moderate, or Severe. Your primary care physician will be informed and included in this important part of your medical care.
Once you have been diagnosed, one of our experienced dentists at Pomerado Cosmetic Dentistry can discuss the ideal sleep treatment for your needs – one that can help you maintain a healthy flow of air while sleeping and reduce the symptoms and risks associated with an obstructed airway. It's also important to note that medical insurance typically covers this treatment at our practice.
Sleep Apnea Treatments
Oral Sleep Appliances and Snoreguards are some of the most common and effective treatments for sleep apnea. These custom-made oral appliances can keep the air passages open and flowing during sleep. They are designed to fit comfortably in the mouth and can also prevent patients from grinding their teeth during the night. Oftentimes, these treatment options effectively relieve the symptoms of sleep apnea and allow the patient to sleep uninterrupted. Unlike C-PAP machines, customized oral appliances do not rely on a large loud apparatus that covers the mouth and nose to work with a pressurized air forcing the airway to open.  They look very much like orthodontic retainers and are specifically designed to help individuals maintain a normal opening for a healthy flow of air to pass through during sleep.
For more information about how to improve the quality of your sleep and the type of oral appliance that can eliminate your snoring, please call Pomerado Cosmetic Dentistry at 858-485-6900 to schedule a consultation.