Poway Cosmetic Dentist on Tooth-Colored Fillings – The New Standard in Dentistry

---
---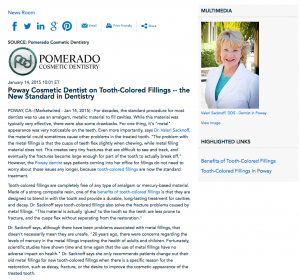 Poway, CA – For decades, the standard procedure for most dentists was to use an amalgam, metallic material to fill cavities. While this material was typically very effective, there were also some drawbacks. For one thing, it's "metal" appearance was very noticeable on the teeth. Even more importantly, says Dr. Valeri Sacknoff, the material could sometimes cause other problems in the treated tooth. "The problem with the metal fillings is that the cusps of teeth flex slightly when chewing, while metal filling material does not. This creates very tiny fractures that are difficult to see and track, and eventually the fractures become large enough for part of the tooth to actually break off." However, the Poway dentist says patients coming into her office for fillings do not need to worry about those issues any longer, because tooth-colored fillings are now the standard treatment.
Tooth-colored fillings are completely free of any type of amalgam or mercury-based material. Made of a strong composite resin, one of the benefits of tooth-colored fillings is that they are designed to blend in with the tooth and provide a durable, long-lasting treatment for cavities and decay. Dr. Sacknoff says tooth-colored fillings also solve the fracture problems caused by metal fillings. "This material is actually 'glued' to the tooth so the teeth are less prone to fracture, and the cusps flex without separating from the restoration."
Dr. Sacknoff says, although there have been problems associated with metal fillings, that doesn't necessarily mean they are unsafe. "20 years ago, there were concerns regarding the levels of mercury in the metal fillings impacting the health of adults and children. Fortunately, scientific studies have shown time and time again that the use of metal fillings have no adverse impact on health." Dr. Sacknoff says she only recommends patients change out their old metal fillings for new tooth-colored fillings when there is a specific reason for the restoration, such as decay, fracture, or the desire to improve the cosmetic appearance of the treated tooth.
For patients who need new fillings, however, Dr. Sacknoff says it's good to have a new standard of care that improves upon the old in terms of both function and aesthetics.
About Valeri Sacknoff, DDS
Dr. Sacknoff earned her Doctorate of Dental Surgery from New York University in 1981. She also has a Bachelor of Science in Public Health and Dental Hygiene degree from Loyola University. Dr. Sacknoff is a member of the American Academy of Cosmetic Dentistry and the Academy of General Dentistry, and has been recognized six times as a "Top Dentist" in San Diego Magazine. Dr. Sacknoff, in collaboration with Dr. Jason Keckley and Dr. Robbi Wilson, offer a variety of cosmetic and general dentistry options at Pomerado Cosmetic Dentistry in the San Diego area. Dr. Sacknoff is available for interview upon request.
To learn more about Pomerado Cosmetic Dentistry, please visit pomeradocosmeticdentistry.com and facebook.com/PomeradoCosmeticDentistry.
Contact:
Pomerado Cosmetic Dentistry
15725 Pomerado Rd.
Suite 110
Poway, CA 92064
858-485-6900
Rosemont Media
858-200-0044
www.rosemontmedia.com