San Diego Dentist Helps Patients Achieve Beautiful Smiles With Discreet Orthodontic Treatment

---
---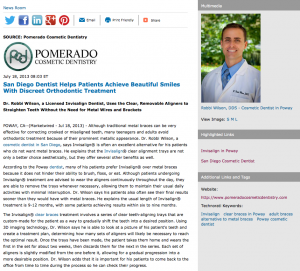 Dr. Robbi Wilson, a licensed Invisalign® dentist, uses the clear, removable aligners to straighten teeth without the need for metal wires and brackets.
Poway, CA — Although traditional metal braces can be very effective for correcting crooked or misaligned teeth, many teenagers and adults avoid orthodontic treatment because of their prominent metallic appearance. Dr. Robbi Wilson, a cosmetic dentist in San Diego, says Invisalign® is often an excellent alternative for his patients who do not want metal braces. He explains that the Invisalign® clear alignment trays are not only a better choice aesthetically, but they offer several other benefits as well.
According to the Poway dentist, many of his patients prefer Invisalign® over metal braces because it does not hinder their ability to brush, floss, or eat. Although patients undergoing Invisalign® treatment are advised to wear the aligners continuously throughout the day, they are able to remove the trays whenever necessary, allowing them to maintain their usual daily activities with minimal interruption. Dr. Wilson says his patients also often see their final results sooner than they would have with metal braces. He explains the usual length of Invisalign® treatment is 9-12 months, with some patients achieving results within six to nine months.
The Invisalign® clear braces treatment involves a series of clear teeth-aligning trays that are custom-made for the patient as a way to gradually shift the teeth into a desired position. Using 3D imaging technology, Dr. Wilson says he is able to look at a picture of his patient's teeth and create a treatment plan, determining how many sets of aligners will likely be necessary to reach the optimal result. Once the trays have been made, the patient takes them home and wears the first in the set for about two weeks, then discards them for the next in the series. Each set of aligners is slightly modified from the one before it, allowing for a gradual progression into a more desirable position. Dr. Wilson adds that it is important for his patients to come back to the office from time to time during the process so he can check their progress.
Dr. Wilson explains that many of his patients in the San Diego area, especially adults, have found Invisalign® to be a convenient and subtle way to correct dental issues that have bothered them for years. He says Invisalign® can help his patients attain a better-looking, healthier smile without drastically changing their appearance or lifestyle during treatment, noting the importance this may hold for many of his older patients. Dr. Wilson reminds those who may be interested in the clear aligners to seek a licensed Invisalign® dentist for a consultation to see if the treatment is right for them.

About Robbi Wilson, DDS
After earning his Bachelor's degree from the University of California, San Diego, Dr. Robbi Wilson completed his Doctorate of Dental Surgery at the UCLA School of Dentistry, followed by a year of general practice residency at Los Angeles Veteran's Hospital. He is currently a licensed Invisalign® dentist at Pomerado Cosmetic Dentistry, which provides a variety of general, cosmetic, and restorative dentistry services. Dr. Wilson has been named as one of San Diego Magazine's "Top Dentists" five times since 2008. He is a member of the American Dental Association, the San Diego County Dental Society, and other organizations. Dr. Wilson is available for interview upon request.