Trying to Prevent Cavities in Your Child's Teeth? A San Diego Dentist Offers Some Tips

---
---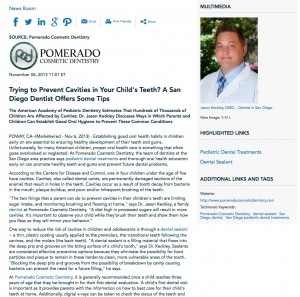 The American Academy of Pediatric Dentistry estimates that hundreds of thousands of children are affected by cavities. Dr. Jason Keckley discusses ways in which parents and children can establish good oral hygiene to prevent these common conditions.
Poway, CA – Establishing good oral health habits in children early on are essential to ensuring healthy development of their teeth and gums. Unfortunately, for many American children, proper oral health care is something that often goes overlooked or neglected. At Pomerado Cosmetic Dentistry, the team of dentists at the San Diego area practice says pediatric dental treatments and thorough oral health education early on can promote healthy teeth and gums and prevent future dental problems.
According to the Centers for Disease and Control, one in four children under the age of five have cavities. Cavities, also called dental caries, are permanently damaged sections of the enamel that result in holes in the teeth. Cavities occur as a result of tooth decay from bacteria in the mouth, plaque buildup, and poor and/or infrequent brushing of the teeth.
"The two things that a parent can do to prevent cavities in their children's teeth are limiting sugar intake, and monitoring brushing and flossing at home," says Dr. Jason Keckley, a family dentist at Pomerado Cosmetic Dentistry. "A diet high in processed sugars will result in more cavities. It's important to observe your child while they brush their teeth and show them how you floss so they will mirror your behavior."
One way to reduce the risk of cavities in children and adolescents is through a dental sealant – a thin, plastic coating usually applied to the premolars, the transitional teeth following the canines, and the molars (the back teeth). "A dental sealant is a filling material that flows into the deep pits and grooves on the biting surface of a child's tooth," says Dr. Keckley. Sealants are considered effective preventive options because they eliminate the possibility for food particles and plaque to remain in these harder-to-clean, more vulnerable areas of the tooth. "Blocking the deep pits and grooves from the possibility of breakdown by cavity causing bacteria can prevent the need for a future filling," he says.
At Pomerado Cosmetic Dentistry, it is generally recommended once a child reaches three years of age that they be brought in for their first dental evaluation. A child's first dental visit is important as it provides parents with the information on how to best care for their child's teeth at home. Additionally, digital x-rays can be taken to check the status of the teeth and gums.
To ensure optimal oral health of their pediatric and adolescent patients, Dr. Keckley says Pomerado Cosmetic Dentistry offers a variety of general dentistry treatments, including:
oral exams and dental cleanings
dental sealants
fluoride treatments
tooth-colored fillings
"Regular cleanings, exams, and x-rays combined with parental guidance during brushing and flossing, will do the most to prevent your child from having cavities," says Dr. Keckley. He also notes that good oral hygiene starts with proper dental education, and that patients should visit their dentist regularly, usually every six months, for cleanings and to ensure that any problems can be caught early on and effectively treated.
About Pomerado Cosmetic Dentistry
Jason Keckley, DMD
Dr. Jason Keckley earned his Bachelors of Science degree in Cellular and Molecular Biology from San Diego State University, and received his Doctorate of Dental Medicine from Midwestern University. Previously, Dr. Keckley served in the United States Marine Corps for four years. He is a member of the Academy of General Dentistry, the American Dental Association, and the California Dental Association. Dr. Keckley is available for interview upon request.
Valeri Sacknoff, DDS
Dr. Valeri Sacknoff earned her Bachelors of Science degree in Public Health and Dental Hygiene from Loyola University. After receiving her Doctorate of Dental Surgery from New York University in 1981, she moved to San Diego, where she has been in private practice for 30 years. A member of the American Academy of Cosmetic Dentistry, the Academy of General Dentistry, and the American Dental Association, Dr. Sacknoff was also recognized as a "Top Dentist" by San Diego Magazine six times since 2007.
Robbi Wilson, DDS
Dr. Robbi Wilson earned his Bachelors of Science degree in Biology from University of California San Diego, and received his Doctorate of Dental Surgery from University of California Los Angeles School of Dentistry. A member of the American Dental Association and the California State Dental Association, Dr. Wilson has been named as one of San Diego Magazine's "Top Dentists" five times since 2008.
For more information about Pomerado Cosmetic Dentistry, please visit pomeradocosmeticdentistry.com or facebook.com/PomeradoCosmeticDentistry.
Contact:
Pomerado Cosmetic Dentistry
15725 Pomerado Rd.
Suite 110
Poway, CA 92064
(858) 485-6900
Rosemont Media
[email protected]
(858) 200-0044
www.rosemontmedia.com