How Does Invisalign Work?

---
---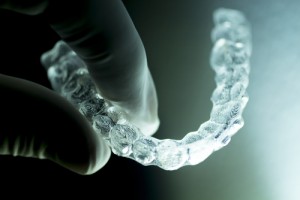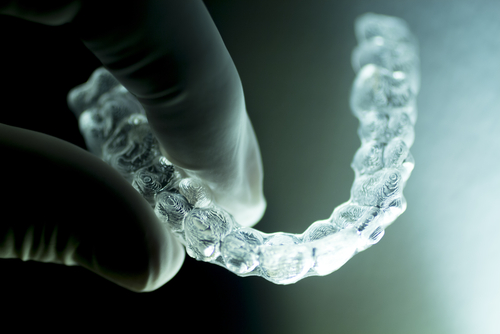 Often referred to as "clear braces," the advanced Invisalign® orthodontic technique actually does not use any kind of braces or brackets at all. In fact, that's one of its major benefits! Candidates for Invisalign® can correct a full range of orthodontic concerns and dramatically improve the appearance of their smile with this state-of-the-art procedure.
Invisalign® utilizes a custom-crafted series of removable, plastic aligners to gradually move the teeth into a more desirable position. Once you have been evaluated and the clear aligners have been created, you will be given a series of aligner trays to take home. Each set of aligners is slightly modified from the previous one in the series, which helps to gently bring the teeth into better alignment. You will wear the same set for about two weeks, and then go on to the next tray. The aligners should be worn throughout the day and while you are sleeping; however, they can be removed while eating, drinking, brushing, and flossing. Strict adherence to the Invisalign® treatment process can increase the chances of achieving optimal results in the quickest amount of time. And remember: the aligners are virtually invisible along the teeth, so there is little need to worry about how they look when you smile.
For many patients, the best results from Invisalign® occur after about 9 to 15 months. In some cases, patients have even met their goals after six months. During your initial consultation, our experienced dental team can talk more with you about what to expect during the treatment process, the potential costs of Invisalign®, and other aspects of the procedure.
If you would like more information, or if you would like to schedule a consultation to see if Invisalign® is the best option for your needs, please don't hesitate to contact Pomerado Cosmetic Dentistry today.