Cosmetic Dentist in Poway Gives Tips on How to Choose the Right Doctor for Smile Enhancement

---
---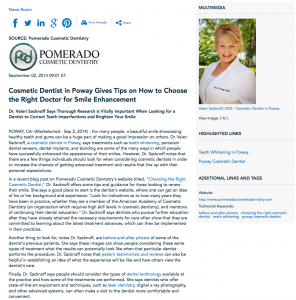 Dr. Valeri Sacknoff says thorough research is vitally important when looking for a dentist to correct teeth imperfections and brighten your smile.
Poway, CA – For many people, a beautiful smile showcasing healthy teeth and gums can be a huge part of making a good impression on others. Dr. Valeri Sacknoff, a cosmetic dentist in Poway, says treatments such as teeth whitening, porcelain dental veneers, dental implants, and bonding are some of the many ways in which people have successfully enhanced the appearance of their smiles. However, Dr. Sacknoff notes that there are a few things individuals should look for when considering cosmetic dentists in order to increase the chances of getting advanced treatment and results that line up with their personal expectations.
In a recent blog post on Pomerado Cosmetic Dentistry's website titled, "Choosing the Right Cosmetic Dentist," Dr. Sacknoff offers some tips and guidance for those looking to renew their smile. She says a good place to start is the dentist's website, where one can get an idea of his or her background and experience: "Look for indications as to how many years they have been in practice, whether they are a member of the American Academy of Cosmetic Dentistry (an organization which requires high skill levels in cosmetic dentistry), and mentions of continuing their dental education." Dr. Sacknoff says dentists who pursue further education after they have already attained the necessary requirements for care often show that they are committed to learning about the latest treatment advances, which can then be implemented in their practices.
Another thing to look for, notes Dr. Sacknoff, are before-and-after photos of some of the dentist's previous patients. She says these images can show people considering these same types of treatment what the results can potentially look like when that particular dentist performs the procedure. Dr. Sacknoff notes that patient testimonials and reviews can also be helpful in establishing an idea of what the experience will be like and how others view the dentist's care.
Finally, Dr. Sacknoff says people should consider the types of dental technology available at the practice and how some of the treatments are performed. She says dentists who offer state-of-the-art equipment and techniques, such as laser dentistry, digital x-ray photography, and other advanced systems, can often make a visit to the dentist more comfortable and convenient.
Ultimately, Dr. Sacknoff says people should never be afraid to ask questions and find out exactly what the dentist offers, the kind of experience he or she has, and what other patients have to say. "A good dentist should encourage honest and open communication so that you are both on the same page in terms of your needs and goals."
About Valeri Sacknoff, DDS
Dr. Valeri Sacknoff is a member of the American Academy of Cosmetic Dentistry and the Academy of General Dentistry. She has a Bachelor of Science in Public Health and Dental Hygiene degree from Loyola University, and earned her Doctorate of Dental Surgery from New York University in 1981. Dr. Sacknoff is a six-time recipient of San Diego Magazine's "Top Dentist" award. Dr. Sacknoff, along with Dr. Jason Keckley and Dr. Robbi Wilson, perform cosmetic and general dentistry services at Pomerado Cosmetic Dentistry in the San Diego area.
To learn more about Dr. Wilson and Pomerado Cosmetic Dentistry, please visit pomeradocosmeticdentistry.com or facebook.com/PomeradoCosmeticDentistry
Contact:
Pomerado Cosmetic Dentistry
15725 Pomerado Rd.
Suite 110
Poway, CA 92064
858-485-6900
Rosemont Media
858-200-0044