Dental Care for Senior Citizens – Keeping Teeth and Gums Healthy and Beautiful in Your 60s, 70s, and Beyond

---
---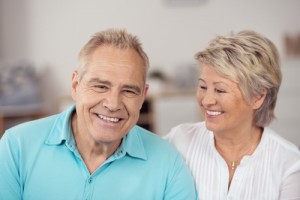 As we age, it becomes even more important to maintain your oral health. Teeth and gums that have not been taken care of can actually lead to overall health risks or worsen existing conditions such as heart disease and diabetes. Plus, those of us who are in our late 50s, early 60s, and beyond are more susceptible to the toll that the natural aging process can have on our teeth. However, with routine flossing and brushing in addition to regular dental check-ups, you can go a long way toward keeping your teeth and gums healthy, functional, and looking great!
Here at Pomerado Cosmetic Dentistry, we offer a number of treatments that can help senior citizens and our mature adult patients obtain the care they need in the most comfortable way possible. Our dentists are extensively trained and experienced in general, restorative, and cosmetic dentistry procedures, and our goal is to ensure your concerns are met with excellent results. We offer an array of procedures to address problems such as chips, cracks, cavities, gum disease, missing or damaged teeth, and cosmetic imperfections like staining and yellowing. Our dentists can also make your treatment a virtually painless – even pleasant – experience with some of the latest sedation dentistry techniques available.
Advanced treatment and routine dental care from the experienced team here at Pomerado Cosmetic Dentistry can renew the look of your smile, restore the function of your teeth, and keep your oral health in a positive state for years to come. If you would like to learn more about our dentists and the treatments they provide, or if you would like to schedule a consultation, please contact us today!