San Diego Dentists Help Bring Second City Comedy Troupe to Poway

---
---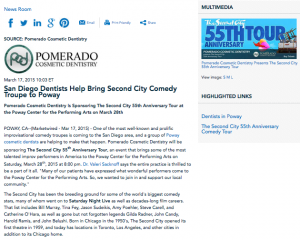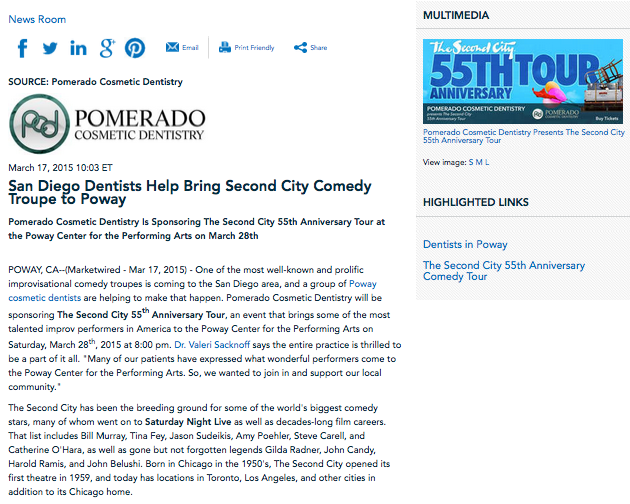 Pomerado Cosmetic Dentistry is sponsoring The Second City 55th Anniversary Tour at the Poway Center for the Performing Arts on March 28th.
Poway, CA – One of the most well-known and prolific improvisational comedy troupes is coming to the San Diego area, and a group of Poway cosmetic dentists are helping to make that happen. Pomerado Cosmetic Dentistry will be sponsoring The Second City 55th Anniversary Tour, an event that brings some of the most talented improv performers in America to the Poway Center for the Performing Arts on Saturday, March 28th, 2015 at 8:00 pm. Dr. Valeri Sacknoff says the entire practice is thrilled to be a part of it all. "Many of our patients have expressed what wonderful performers come to the Poway Center for the Performing Arts. So, we wanted to join in and support our local community."
The Second City has been the breeding ground for some of the world's biggest comedy stars, many of whom went on to Saturday Night Live as well as decades-long film careers. That list includes Bill Murray, Tina Fey, Jason Sudeikis, Amy Poehler, Steve Carell, and Catherine O'Hara, as well as gone but not forgotten legends Gilda Radner, John Candy, Harold Ramis, and John Belushi. Born in Chicago in the 1950's, The Second City opened its first theatre in 1959, and today has locations in Toronto, Los Angeles, and other cities in addition to its Chicago home.
The Poway dentists say the practice's sponsorship of the event is just one of the many ways they try to support their local communities. "Over the years, our doctors have participated in events such as the CDA Cares event in San Diego, the Poway Health Fairs, Rotary, SDSU Pre-Dental Club and, of course, our sponsorships/donations with various organizations that help teach children in underprivileged areas how to brush their teeth," notes Dr. Sacknoff.
Tickets for The Second City 55th Anniversary show can be purchased at www.powayarts.org. The dental team at Pomerado Cosmetic Dentistry says all of its members and their families and friends will be in attendance, and Dr. Sacknoff believes the show is sure to bring a smile to people's faces. " Its always fun to try something new, take  a break and LAUGH!! Especially when the activity is right in our own community."
About Pomerado Cosmetic Dentistry
Pomerado Cosmetic Dentistry has been serving North San Diego County communities for more than 40 years. The dentists at the practice, Dr. Valeri Sacknoff, Dr. Robbi Wilson, and Dr. Jason Keckley, offer a family environment with movies, music, snacks, and excellent patient care. They offer advanced general, cosmetic, and family dentistry procedures including teeth whitening, porcelain veneers, routine dental care, sedation dentistry techniques, dental implants, invisalign, orthodontic retainers and other dental treatments.  Doctors at Pomerado Cosmetic Dentistry have been recognized numerous times in San Diego Magazine as some of the area's Top Dentists. They are available for interview upon request.
To learn more about Pomerado Cosmetic Dentistry, please visit pomeradocosmeticdentistry.com and facebook.com/PomeradoCosmeticDentistry.
Contact:
Pomerado Cosmetic Dentistry
15725 Pomerado Rd.
Suite 110
Poway, CA 92064
858-485-6900
Rosemont Media
858-200-0044
www.rosemontmedia.com