How Dentists Give Back: Dr. Keckley Joins CDA Cares Efforts in San Diego

---
---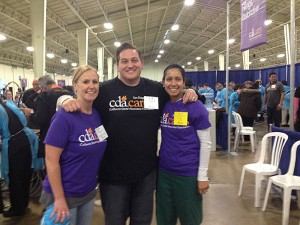 We were recently able to sit down with one of our top dentists in Poway, Dr. Jason Keckley, and talk with him regarding his experience at the California Dental Association (CDA) Cares San Diego volunteer clinic. The clinic, which was held at the Del Mar Fairgrounds in December, provided more than $1.6 million in dental services to 2,203 patients free of charge. The CDA Cares program is one way for dentists, dental professionals, sponsors, and volunteers to give back to the community by providing oral health care to those most in need.
Q: How did you become involved in the CDA Cares San Diego program?
Dr. Keckley: I heard about this event at several professional lectures that I attended last year. The San Diego County Dental Society and the California Dental Association were actively getting the word out to local dentists.
Q: What are some aspects about the event that stood out most to you?
Dr. Keckley: Providing full service dental care to thousands of people takes an incredible logistical effort. Millions of dollars in materials, equipment, and professional time was required to pull it off. I was amazed at how the CDA really made it a simple experience for the patients and the providers. I walked in for a tour and some briefings the night before, and the next day at 5:00am we were up and ready to see patients.
Q: What kinds of dental procedures did you perform?
Dr. Keckley: I was personally tasked by the leadership there to be in charge of medically clearing patients for dental work. Many patients that came to the clinic were currently taking many medications and had complicated medical conditions. The safety of the patients was our number one concern. Hundreds of dentists from all over California were on hand to help. Together we provided services including x-rays, cleanings, fillings, extractions, and complete dentures on the spot. Some patients had been without teeth or in constant pain for months or even years prior to coming to the event.
Q: Were there any patients in particular that stood out to you?
Dr. Keckley: There were too many to count. These were patients who hadn't seen a dentist in years, if ever. Many were homeless, or living at or below the poverty line. Because of this, I can't say one patient really stood out, as they were all incredibly thankful for the opportunity to receive care those two days. These clinics are held twice a year in California. There will be one in Northern California, and then 6 months later there will be one held in Southern California. I was surprised to see quite a few patients travel from north of San Francisco down to San Diego for dental care. It was particularly cold and rainy, and hundreds of people showed up the night before to sleep at Del Mar to be the first ones to be seen the next day. The CDA provided shelter for people prepared to sleep in line at the clinic's front door.
Q: What did you and the dental team find most rewarding about this experience?
Dr. Keckley: We found the appreciation of the patients to be the most rewarding. We were truly the only hope that some people had to get their dental problems evaluated and treated. It was an honor to be a small part of the CDA cares event, and we'll never forget the experience.
Q: The CDA mentions that educating the patients is a large part of the clinic. What general information/advice about oral health care would you share with people who are in need, but perhaps unable to afford dental care?
Dr. Keckley: I would recommend that everyone go see a dentist at least twice a year, even if it's just for a cleaning and exam. Many dentists have payment plans and financing options that are within reach for practically anyone. For those most unfortunate, these free clinics are their last option. With all patients we discuss proper brushing, flossing, and dietary habits that promote good oral health.
Contact Us
For more information, or to schedule an appointment with one of our dentists, please contact us today.