San Diego Dentist Helps Provide Oral Health Care to Thousands at Free Clinic

---
---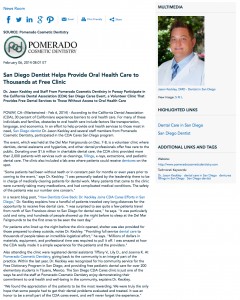 Dr. Jason Keckley and staff from Pomerado Cosmetic Dentistry in Poway participate in the California Dental Association (CDA) San Diego Cares event, a volunteer clinic that provides free dental services to those without access to oral health care.
Poway, CA – According to the California Dental Association (CDA), 30 percent of Californians experience barriers to oral health care. For many of these individuals and families, obstacles to oral health care include factors like transportation, language, and economics. In an effort to help provide oral health services to those most in need, San Diego dentist Dr. Jason Keckley and several staff members from Pomerado Cosmetic Dentistry, participated in the CDA Cares San Diego program.
The event, which was held at the Del Mar Fairgrounds on Dec. 7-8, is a volunteer clinic where dentists, dental assistants and hygienists, and other dental professionals offer free care to the public. Donating over $1.6 million in charitable dental care, the CDA clinic provided more than 2,000 patients with services such as cleanings, fillings, x-rays, extractions, and pediatric dental care. The clinic also included a lab area where patients could receive dentures on the spot.
"Some patients had been without teeth or in constant pain for months or even years prior to coming to the event," says Dr. Keckley. "I was personally tasked by the leadership there to be in charge of medically clearing patients for dental work. Many patients that came to the clinic were currently taking many medications, and had complicated medical conditions. The safety of the patients was our number one concern."
In a recent blog post, "How Dentists Give Back: Dr. Keckley Joins CDA Cares Efforts in San Diego," Dr. Keckley explains how a handful of patients traveled very long distances for the opportunity to receive free dental care. "I was surprised to see quite a few patients travel from north of San Francisco down to San Diego for dental care," he says. "It was particularly cold and rainy, and hundreds of people showed up the night before to sleep at the Del Mar Fairgrounds to be the first ones to be seen the next day."
For patients who lined up the night before the clinic opened, shelter was also provided for those prepared to sleep outside, notes Dr. Keckley. "Providing full service dental care to thousands of people takes an incredible logistical effort," he says. "Millions of dollars in materials, equipment, and professional time was required to pull it off. I was amazed at how the CDA really made it a simple experience for the patients and the providers."
Also attending the clinic were registered dental assistants Tiffany V., Lily D., and Joanna K. At Pomerado Cosmetic Dentistry, giving back to the community is an integral part of the practice. Within the last year, Dr. Keckley was recognized for his community service for the Free Dictionary Program in San Diego, and providing free pediatric dental care for over 200 elementary students in Tijuana, Mexico. The San Diego CDA Cares clinic is just one of the ways he and the staff at Pomerado Cosmetic Dentistry enjoy demonstrating their commitment to oral health and well-being in the community, explains Dr. Keckley.
"We found the appreciation of the patients to be the most rewarding. We were truly the only hope that some people had to get their dental problems evaluated and treated. It was an honor to be a small part of the CDA cares event, and we'll never forget the experience."

About Jason Keckley, DMD
Dr. Jason Keckley graduated from San Diego State University, and earned his Doctorate of Dental Medicine from Midwestern University. He is a member of the Academy of General Dentistry, the American Dental Association, and the California Dental Association. Dr. Keckley is also a former member of the United States Marine Corps, having served from 1998 to 2002. Licensed by DOCS Education, Dr. Keckley is also authorized to administer oral sedation. He is available for interview upon request.
To learn more about Pomerado Cosmetic Dentistry, visit pomercosmeticdentistry.com and facebook.com/PomeradoCosmeticDentistry.
Contact:
Pomerado Cosmetic Dentistry
15725 Pomerado Rd.
Suite 110
Poway, CA 92064
(858) 485-6900

Rosemont Media
[email protected]
(858) 200-0044
www.rosemontmedia.com