Poway and Rancho Bernardo Area Dentists Approved as VA Vendors to Offer Covered Dental Care for Veterans

---
---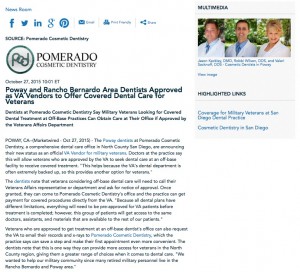 Dentists at Pomerado Cosmetic Dentistry say military veterans looking for covered dental treatment at off-base practices can obtain care at their office if approved by the Veterans Affairs Department.
Poway, CA – The Poway dentists at Pomerado Cosmetic Dentistry, a comprehensive dental care office in North County San Diego, are announcing their new status as an official VA Vendor for military veterans. Doctors at the practice say this will allow veterans who are approved by the VA to seek dental care at an off-base facility to receive covered treatment. "This helps because the VA's dental department is often extremely backed up, so this provides another option for veterans."
The dentists note that veterans considering off-base dental care will need to call their Veterans Affairs representative or department and ask for notice of approval. Once granted, they can come to Pomerado Cosmetic Dentistry's office and the practice can get payment for covered procedures directly from the VA. "Because all dental plans have different limitations, everything will need to be pre-approved for VA patients before treatment is completed; however, this group of patients will get access to the same doctors, assistants, and materials that are available to the rest of our patients."
Veterans who are approved to get treatment at an off-base dentist's office can also request the VA to email their records and x-rays to Pomerado Cosmetic Dentistry, which the practice says can save a step and make their first appointment even more convenient. The dentists note that this is one way they can provide more access for veterans in the North County region, giving them a greater range of choices when it comes to dental care. "We wanted to help our military community since many retired military personnel live in the Rancho Bernardo and Poway area."
About Pomerado Cosmetic Dentistry
Pomerado Cosmetic Dentistry has been serving communities in North County San Diego for more than 40 years. Dr. Valeri Sacknoff, Dr. Robbi Wilson, and Dr. Jason Keckley, offer cosmetic, restorative, and family dental care options such as dental implants, routine and preventive treatments, sedation dentistry techniques, orthodontic procedures, and more. The office also offers patients a number of amenities to enhance their comfort and overall treatment experience, including neck and back pillows, wireless headphones, and music/movie options. Doctors at the practice have been recognized multiple times in San Diego Magazine as some of the Top Dentists in the area. The dentists are available for interview upon request.
To learn more about Pomerado Cosmetic Dentistry, please visit pomeradocosmeticdentistry.com and facebook.com/PomeradoCosmeticDentistry.
Contact:
Pomerado Cosmetic Dentistry
15725 Pomerado Rd.
Suite 110
Poway, CA 92064
858-485-6900
Rosemont Media
858-200-0044
www.rosemontmedia.com