Be Sure to Use Your Dental Insurance and FSA/HSA Benefits Before December 31st!

---
---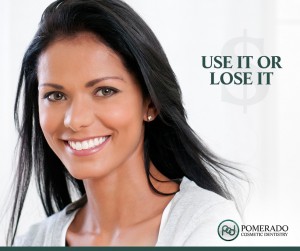 The end of the year is approaching, and our team here at Pomerado Cosmetic Dentistry wants to be sure you are able to utilize any unused dental treatment benefits before they expire on December 31st. In addition to dental insurance, many people participate in a Health Savings Account (HSA) or a Flexible Spending Account (FSA). It's important to remember that many of these plans are structured in a way that money and benefits do not roll over into the new calendar year.
Since there are less than two months left in 2015, we encourage you to contact us as soon as possible with any questions you may have about the benefits that are available to you, or to schedule an appointment. At this time of year, appointment slots tend to fill up quickly, and we do not want you to miss out on the many advantages insurance and employee spending accounts offer each year.
Pomerado Cosmetic Dentistry wants everyone who needs dental care to be able to receive it in the most financially convenient way possible. That's why we accept a number of different payment methods, including many insurance and health spending plans, and work with healthcare financing companies like CareCredit® to give our patients a variety of options. We are committed to helping you attain optimal oral health and a beautiful smile!
Contact Pomerado Cosmetic Dentistry
Please contact us today for more information, or to schedule an appointment with one of our experienced dentists.