What's the Difference Between All-on-4® and Dentures?

---
---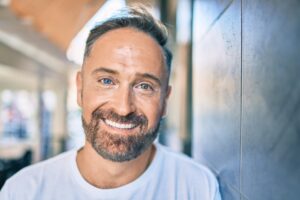 Advancements in dental care have provided new technologies and innovative methods for addressing the needs of your teeth. For example, if you are missing multiple teeth or a single tooth, you are now presented with a wide range of options regarding how to restore your smile. Thanks to the evolution of dentistry, you may be deciding between All-on-4® dental implants and dentures as your solution to replace multiple missing teeth. Luckily, Pomerado Cosmetic Dentistry offers both of the aforementioned restorative dentistry treatments for our patients.
While both All-on-4® dental implants and dentures address missing teeth, the two methods are vastly different in their own respects. For a long period of time, dentures were the primary answer for replacing entire rows of teeth. While dentures are still exceptional at meeting your needs if you have numerous missing teeth, methods like All-on-4® may provide additional flexibility. We also offer implant dentures and dental implants that may remedy your dental problems as well. You and our team will determine which method is best for you based on your specific goals during your initial consultation. 
Focusing on All-on-4® dental implants and dentures for now, let's examine the differences between the two popular treatments.
All-on-4® 
Coveted as a "hybrid" between traditional dentures and dental implants, All-on-4® works best for individuals who are missing entire rows of missing teeth. You may ask, "Why is All-on-4® a hybrid?" Well, All-on-4® combines the customization of a denture set with the dental implant technique to provide substantial support and a natural look.
By inserting four dental implants into your jawbone, a denture appliance is attached and secured into place. All-on-4® can be a great alternative to removable dentures and dental implants if you do not have sufficient jawbone density. Overall benefits of All-on-4® can include: 
Replacing multiple teeth for the upper and lower dental arches
Avoiding dental adhesives and pastes
Improving your ability to speak and chew confidently
Overhauling your entire smile
Strengthening your bite and preventing further deterioration
Natural-looking teeth that are indistinguishable from your original teeth
Dentures
Dentures have long been known as the go-to solution for missing teeth, especially for seniors and mature adults. While there have been incredible advancements over the years in dental care, dentures remain an effective and sought-after treatment to fix missing teeth. Dentures are generally used when replacing many or all of your teeth. Typically, denture appliances are made of plastic or porcelain material. By additionally using a pink acrylic material to replicate the color of your gums, dentures can look extremely natural. Dentures are removable as well, which allows you to make personal adjustments when needed. 
Benefits of using dentures can include: 
Rejuvenating your overall appearance with a fuller face
Supporting your mouth and lips
Allowing for improved chewing and speech
Providing a younger and natural look
Flexibility to be removed, if desired
If you are in need of All-on-4® or dentures, or simply want to know more about what services Pomerado Cosmetic Dentistry can provide, contact us today!