Top 5 Tips for Preventing Childhood Cavities

---
---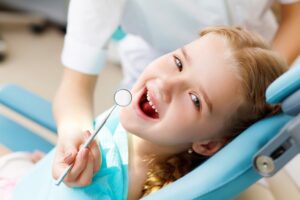 Cavities are a common concern for children and, unfortunately, they won't go away by themselves. They need to be conquered as quickly as possible to prevent further damage. Thankfully, however, preventing cavities in kids is not as difficult as it may seem. At Pomerado Cosmetic Dentistry, we've found that kids have a better chance of an orally healthy life when their parents introduce good hygienic habits early on. With help from the tips below, a qualified dentist, and the support of a loving parent, your child can keep cavities far away for years to come. 
1: Develop a Consistent Brushing and Flossing Schedule
First and foremost, make sure your child follows these habits: 
Brush at least twice a day, thoroughly addressing each corner of the mouth
Floss once a day, making sure to get in between every tooth
Brush the tongue to get rid of bacteria
We typically advocate introducing these habits as soon as your child's first teeth begin to appear. If your child is especially young, you will want to oversee their brushing.
Some children dislike that brushing takes so long (at least in their opinion). We would be glad to recommend a kid-friendly brand of toothbrush or toothpaste to make these processes more palatable. 
2: Add a Topical Fluoride Treatment to a Professional Dental Cleaning 
Fluoride is a naturally-occurring mineral that has been proven effective in preventing tooth decay. Its potent chemical properties are able to repel bacteria, rebuild enamel, and strengthen teeth – all of which are essential in preventing cavities. Fluoride also occurs naturally in certain foods, such as raw fruit (especially grapes), spinach, and potatoes. For children of a certain age, it is often good to add a topical fluoride treatment to a standard dental cleaning. Ask your dentist if your child is ready for regular topical fluoride treatments during their visit. This can be a quick and painless way to enhance protection against cavities and strengthen the teeth! 
3: Attend Regular Cleanings and Exams
We usually advise parents to start bringing their children to the dentist by the time they reach three years of age. This way, they become familiar with the process early, and learn that there's nothing to be afraid of. Your child should attend biannual cleanings to keep their teeth healthy as they grow. This regular cleaning schedule will help keep the teeth clean, reducing the chance of cavity development. 
4: Follow a Healthy Diet
Make sure your child's diet includes lots of: 
Fruits, such as apples
Vegetables, such as celery
Calcium, such as yogurt
"Superfoods", such as the ones mentioned above, sometimes have properties that cleanse teeth while you eat them. The occasional sweet treat is okay, but make sure your child brushes thoroughly after every sugary snack. We also encourage children to make water their beverage of choice, as other popular drinks (soda, juice, etc.) are usually loaded with sugar. 
5: Have a Family Dentist on Your Side 
Choosing a family dentist can make a world of difference in your child's care. For one, family dentists often have experience with pediatric dentistry, making them well-versed in working with kids. For another, they're often qualified to perform a comprehensive list of procedures, including preventive, restorative, and cosmetic dentistry. Finally, bringing a young child to a family dentist can establish a wonderful patient-doctor relationship that can help them feel more comfortable during appointments as they continue to grow. 
If you would like more information on cavity prevention, or if you are ready to schedule a first-time visit (and complimentary office tour) for your child, contact us at Pomerado Cosmetic Dentistry.