What Is the Difference Between Porcelain Crowns and Veneers?

---
---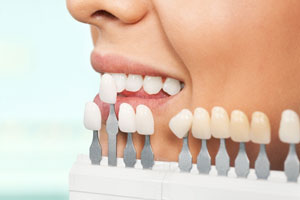 Porcelain crowns and veneers can both be used to enhance the form, function and beauty of a damaged or unsightly tooth; however, each type of restoration has its own set of benefits and limitations. Whether porcelain veneers, crowns or a combination of both are best for a particular patient is dependent upon the unique circumstances of their dental health and treatment goals. Our dentists, Dr. Valeri Sacknoff and Dr. Robbi Wilson, help patients understand the differences between porcelain veneers and crowns, as well as determine which approach may be able to deliver the smile transforming results they desire.
Porcelain Crowns vs. Porcelain Veneers
There are several fundamental differences between porcelain crowns and veneers:
Porcelain veneers are considered the less invasive, more conservative option because they only require the removal of a small portion of the tooth to apply. The veneer itself is a thin shell of porcelain which fits over the front side of the tooth to conceal imperfections with its porcelain façade. Porcelain veneers can correct a wide variety of cosmetic concerns, including chips, cracks, gaps and discoloration.

Porcelain crowns require more extensive tooth preparation than porcelain veneers. A portion of the tooth body must first be removed, after which the customized crown can be placed and secured with durable glue. Crowns are typically a better option for teeth that have been severely damaged and are lacking the structural integrity to function properly. The result is a stronger, more beautiful tooth.
Both crowns and veneers are custom crafted using high quality porcelain materials to fit the unique needs of the patient. Using the latest CEREC® technology, our dentists can often fabricate your crowns or veneers in-office in just one visit. For more severe cases we use a local laboratory to ensure the proper color match and fit.
Contact Pomerado Cosmetic Dentistry
For more information about the differences between porcelain crowns and veneers, contact Pomerado Cosmetic Dentistry. We can help you schedule a consultation with our dentists to determine which smile enhancing option can deliver the results you are looking to achieve.