Announcing ViziLite®: Oral Lesion Screening

---
---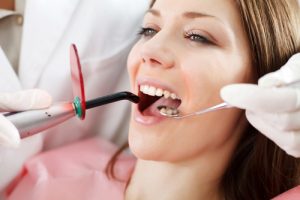 Our goal at Pomerado Cosmetic Dentistry is to renew the appearance of your teeth and help you maintain good oral health. One of the ways our dentists in Poway do this is by offering innovative and accurate dental technology, such as ViziLite®, to our patients.
ViziLite® is a pain-free, light-based fluorescent technology that can detect oral abnormalities within the mouth. Screening for oral lesions is important as these irregularities can sometimes be cancerous or precancerous. Most often, cancerous lesions are found on the tongue, tonsils, oropharynx, gums, or floor of the mouth. The American Cancer Society (ACS) estimates that, for 2018, about 51,540 people will be diagnosed with oral cancer. If caught early, oral cancer lesions can be highly treatable. The dental professionals at our office are committed to utilizing the most advanced technology to help identify abnormalities amongst the oral tissues as early as possible.
We encourage our patients to have a screening with ViziLite® technology at least once per year, but twice if you use tobacco products such as cigarettes, chewing tobacco, or pipe tobacco. You can also perform at-home examinations of your oral tissues in between your appointments at our office. If anything feels or looks out of the ordinary, please call us to schedule an appointment. It is important to be proactive and choose to have oral cancer screenings, as early detection is what could save your life!
If you are interested in scheduling a screening for oral lesions, please contact Pomerado Cosmetic Dentistry today. We look forward to hearing from you!